New Patent on Bra Dagger Issued by the U.S. Patent and Trademark Office
A patent entitled "Bra with Pocket" recently issued by the U.S. Patent and Trademark Office on November 28, 2017. In general terms the invention is for a bra with a pocket that can be used for a knife, dagger, or the like. The patent was assigned to Booby Trap Bras, LLC from Wimberley, Texas.

The product is commercially available on the Booby Trap Bras website. So how does it work? This is how:

(Photo credit to Booby Trap Bras for the "Just in Case Bra" images.)
The patent, U.S. Patent No. 9,826,784, is directed towards self defense, particularly when women might be jogging or exercising. The patent provides "a pocket for safely removably securing an item or device used in self-defense such that the item will not be unintentionally removed from the pocket during physical activity, including dancing, jogging, tennis, or any other athletic or physical activity."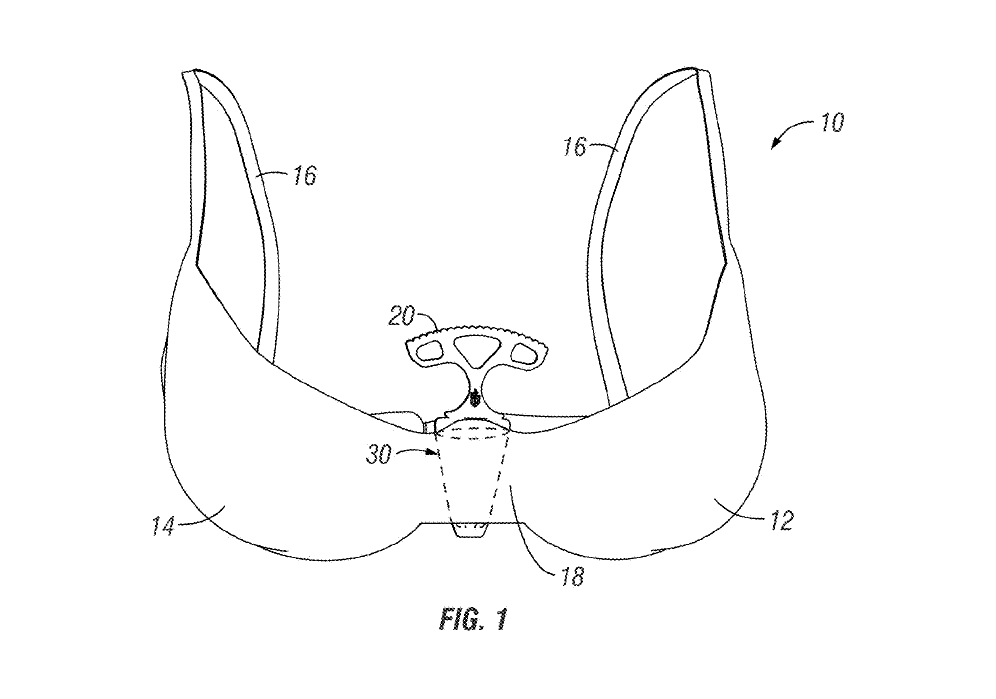 The patent says that the pocket can be used to hold or conceal almost anything and lists a number of examples. My favorite item is the ninja star, followed by the bear spray and the punch dagger. The listed examples include a "a punch dagger, ninja star, tactical knife, utility knife, combat knife, pepper spray, mace, bear spray, k9 spray, water spray tester, insect spray/replant, animal deterrent spray, emergency alert device/monitor, mobile GPS device/monitor, one touch connect device, stun gun, trigger stun weapon, conducted electrical weapon, stun rod, emergency alarm device, warning sound device, body camera, a flashlight and self-defense weapon combination, or any other device combining any of the aforementioned self-defense products/tools/equipment."
For Patent Attorneys Only
For the patent nerds who want to know what the patent's first independent claim looks like, here is claim 1:
1. A bra with a pocket comprising:
a front portion comprising a front left portion and a front right portion, said front portion having an inner layer and an outer layer;
one or more side portions extending from opposing sides of the front portion of the bra;
a back portion opposite the front portion, said back portion attached to the front portion by one or more side portions;
said pocket formed between the inner layer and the outer layer of the front portion, said pocket positioned between the front right portion and the front left portion of the front portion;
a sheath comprising a cut-resistant material fitted within the pocket; and
a knife removably attached to the sheath.